Pulp Fiction + Rocky Horror Picture Show + Moulin Rouge + Freddy just had a love child. I can't explain for this foursome happened and to be honest I'm mind boggled to try and imagine so much pantyhose being flung about (you are of legal age to be reading this right?) … that thinking about that might feel traumatic.
Listening to this. Isn't.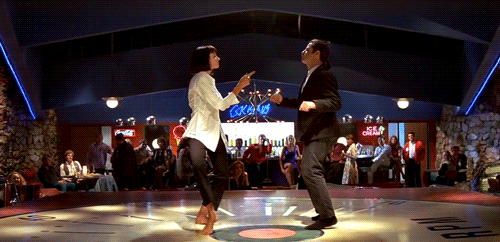 Originally from Oakland CA, Las Vegas-based Fans of Jimmy Century is an original indiewave, modwave, neo noir duo with trip hop influences and led by vocalist/songwriter/voice actor Alicia Perrone and bassist/songwriter/producer/video director Victor James.
Yes, you heard right?! "Indiewave, Modwave, Tripwave, Neonoir, Modnoir, modern 70s pornwave grooves. modern torch, genre-bending music inspired by Tarantino films, making sense after midnight." With a whole lot of spikes, slash and sass.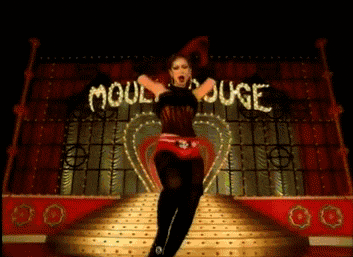 Did I mention quirksome, with a kick, and a helluva lot of attitude? I mean it's not everyone bio that would audaciously and playfully suggest "Your fortune cookie says you are one fortunate cookie. Ride unexpected aggressive waves."
Well that's just naughty. With a wink.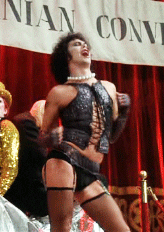 Because once upon a time "Girls Allowed" claimed dibs on "the sound of the underground" and now are being reduced to unequivocal pangs of shame. After all, they say in the month of October the real spirits come out – and this duo is pow-wowing themselves to the front of the line.
*SpoilerAlert – Curiosity will kill your cat.*
And it's too late now.
It's lured you in. Prepare to be thrashed around and dropped on the other side with kink and rock and well, this:
The story telling in the track is purely wickedly delious. Without a shudder of doubt. The sassy, sexyness of it all is bound to drip new infusions into your bodouir and tantalize the dancefloor with a tease.
Getting that blend of Cabernet, theatre, and helluva made to go music is hard. I haven't tried, but it's hard. There's a borderline to kitsch that makes you feel like you're in an ABBA show that this band burns to the stake.  With love, lust, and pride.
The sheer completeness and compatibility of this kinda vogue is not to be told what to do, when and how making this act – a little renegade, somewhat dangerous, and if played smart a force to be reckoned with.
And that's just one scandalous number that also happens to be downloadable.
So where does this leave the rest of the album?
Glad you asked!
Your Official BurningMan / AfrikaBurn Inspiration Guide to the unexpected this album is so wrong it's right. Like any virus, it's infectious – but unlike any virus – it's designed to slip you into your Jungian darkness and bring your true tour-del-a-force into the word. With hypnotic playfulness that doesn't care if you're unfit, it'll seduce you and tango you around the room like a wolf in hunt, like pretty lights it will seduce you, like fire it will burn you, and like dark-punk-bass it drop you into the hood and bling you out of the galaxy. The best of everything rolled into the only album you need.
Favourite Tracks: I don't understand the question. My mind has no say in this matter. My body is possessed and freedom tastes really good. With no two sing-a-long-look-a-likes, every track on this album lives in the extremes. There's nothing to compare here. Madonna and Gaga would be impressed. So would the artist formerly known as Prince.
But I'll admit "Ghosts of Paradise" captivated my attention with that base. And "Under the Milky Way" shows another dimension and every reason to command respect. (plus you know this SuperNova struggles to resist anything about the stars).
So here's what you need to do. Ping your mum. Ping your Dog. Let your girlfriends know. Make sure your lover gets the note. 26th October. It's all going to become real.
Till then. Polish your ruby red dancing shoes, and pull out your rock chic studded boots, and throw in some lace. And follow the music here: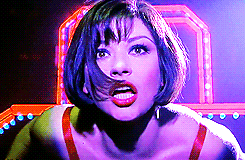 http://facebook.com/fansofjimmycentury
http://instagram.com/fansofjimmycentury